Seattle Spring Thaw 2005
SPTH2005 Page 8 of 8
more Saturday night..
the bEARITONES sing:
best belly contest:
Mr. popular sings popular FOR THE bears.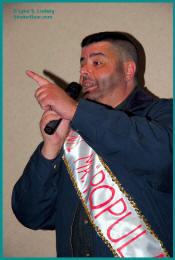 BEST BUNS CONTEST
MONDAY'S BRUNCH AND FAREWELLS
* Page 1* *Page 2* * Page 3* * Page 4* * Page 5* * Page 6* * Page 7* * Page 8*
SPTH2005
© copyright 2005
Lynn S. Ludwig
* PUHLEAZE respect my copyrighted material. Copying, posting, reselling or any other use of this material without my approval is prohibited by law, and just plain rude. If you are interested in using my images, please write me! Thank you!